Movement
Hydraulic system allows fast movemets with a soft action, or alternative Electrical drive even more faster action. All steam and air control is proportonally driven which creates energy saving and fast cycle times.
Equipped with fast mould change system
Proportional control for Steam & Air
De-loading and Stacking robot
Surface treatment mouldings
Electrical drive with knee lever.
Machine Components
Process Control Bachmann
PLC Pneumatic Control Festo
Hydraulic Drive Parker
Electrical Component Schneider
Process control Valves Gemü
Electrical Servo Drive Schneider
Gearbox Keb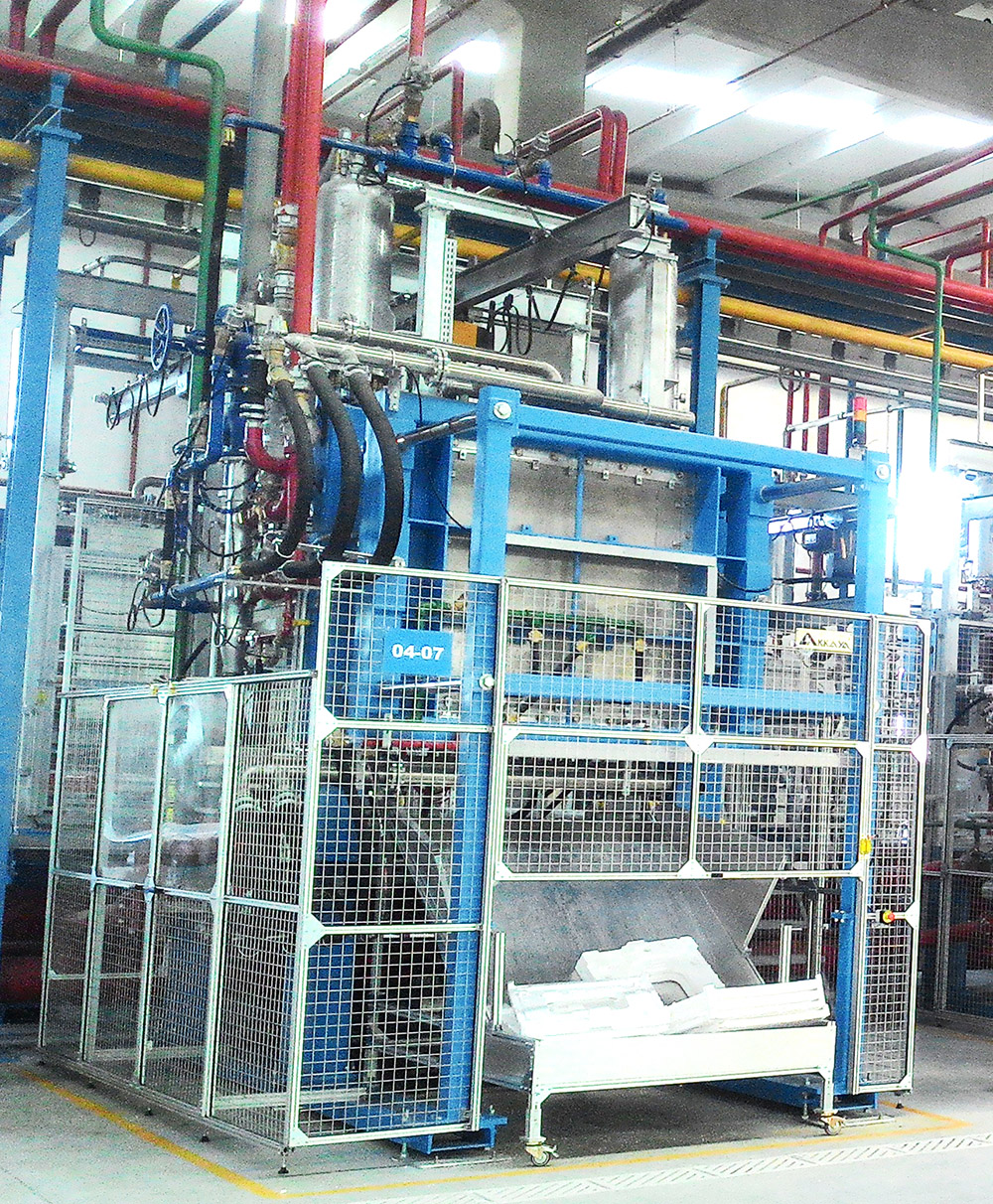 EPS MOULDING MACHINE TYPE: AEM-E
CE Certification
Operating pressure max. 1.6 bar standard
Aluminium Profile Steam Chambers, 
Quick mould change system with clamping frame
Back ejection plate, adjustable, on fixed side. 
Mould change rail incl. moveable manual hoist 1000/2000 kg.
Pressured filling system 120 lt with 16 exits.
Vacuum Unit with 1 vacuum pumps (POMVAK-Turkey)+ 1 water pump 4 kW (POMVAK-Turkey)
Air Blower 2,2 kW for material suction to pressure filler.
Control Panel/Process Control (BACHMANN-AUSTRIA)/Display 12" color touch panel (ASEM-ITALY)
Electronic Stroke Measuring Device (TR-Germany)
Prop.Regulation (Germany)
Pneumatic Command and Control (Festo-Germany)
High Speed Hydraulic Unit 7,5 kW (PARKER-Germany)
---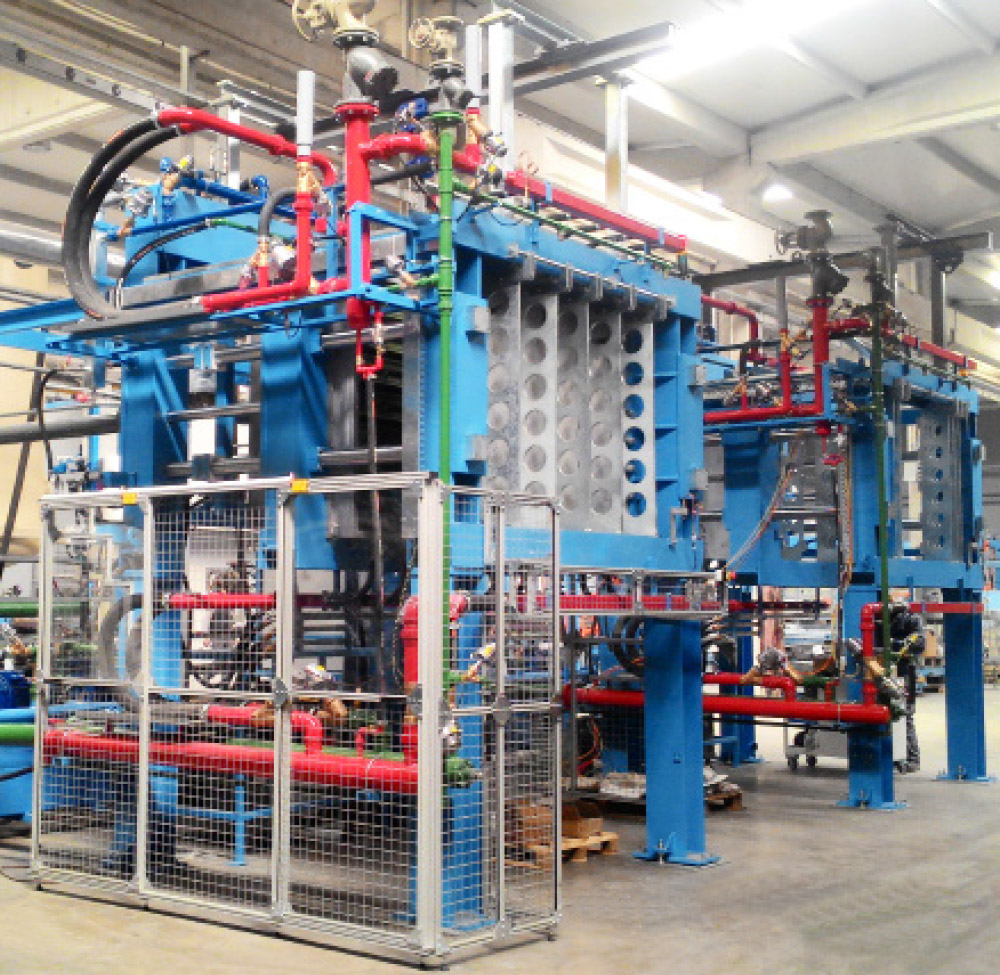 EPS MOULDING MACHINE TYPE: AEM-K
CE Certification,
Operating pressure max. 1.6 bar Standard
Moulding Area: 2075*1475 mm:3,060 m2
Female Flange Dim.: 2150*1550  mm
Male Flange Dim.: 2125*1525 mm
Suitable mould connection design for monoblock steam chamber and fast mould change system
Hydraulic Stroke: 1500 mm
Back ejection plate, adjustable, on fixed side. 
Mould change rail incl. moveable manual hoist 2000 kg.
Pressured filling system 300 lt with 32 exits.
Vacuum Unit with 2 vacuum pumps (POMVAK-Turkey)+ 1 water pump 4 kW (POMVAK-Turkey)
Air Blower 2,2 KW for material suction to pressure filler.
Control Panel/Process Control:(BACHMANN-AUSTRIA)/Display 12" color touch panel (ASEM-ITALY)
Electronic Stroke Measuring Device (TR-Germany)
Prop. Regulation (Germany)
Pneumatic Command and Control (Festo-Germany)
High Speed Hydraulic Unit 11 kW (PARKER-Germany)
---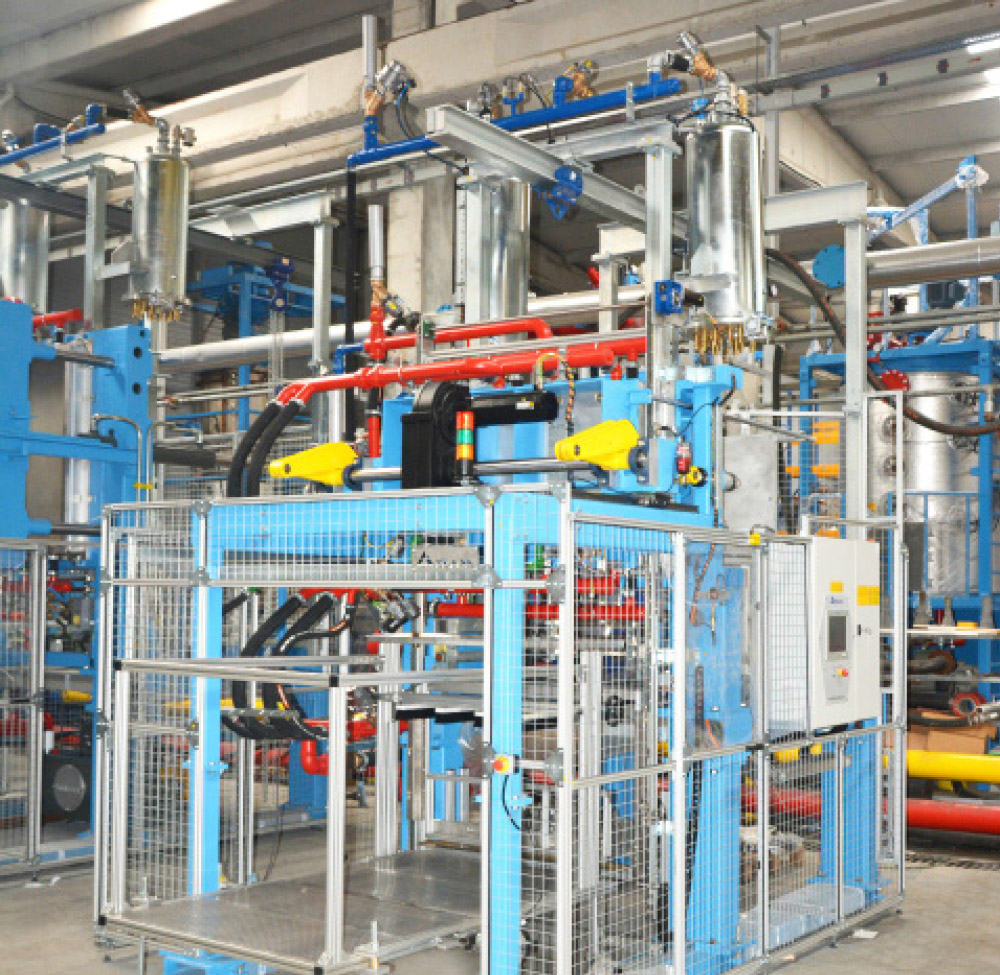 EPS ELECTRICAL DRIVE 
MOULDING MACHINE TYPE: AEM-EE
CE Certification, 
Electric Servo Drive (KEB-Germany)
Operating pressure max. 1.6 bar standard
Aluminium Profile Steam Chambers, 
Quick mould change system with clamping frame
Back ejection plate, adjustable, on fixed side. 
Mould change rail incl. moveable manual hoist 1000 kg.
Pressured filling system 120 lt with 16 exits.
Vacuum Unit with 1 vacuum pumps (POMVAK-Turkey)+ 1 water pump 4 kW (POMVAK-Turkey)
Air Blower 2,2 kW for material suction to pressure filler.
Control Panel/Process Control: (BACHMANN-AUSTRIA)/Display 12" color touch panel (ASEM-ITALY)
Prop. Regulation (Germany)
Pneumatic Command and Control (Festo-Germany)
---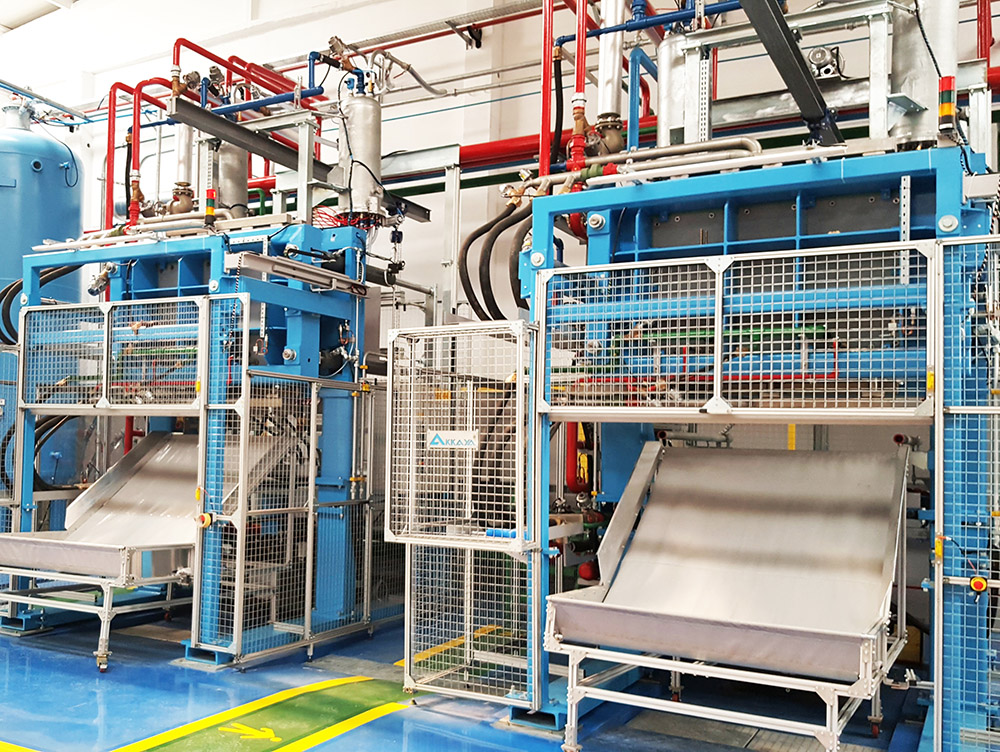 EPP MOULDING MACHINE TYPE: AEM-E-PP
CE Certification 
Operating pressure max. 5 bar standard
Steel steam chamber system, aluminium coated
with outside thermal insulation.
Multi position clamping/loading of male/female through combined 
hydraulic/mechanic locking system.
Quick mould-change system with clamp-frame
Back ejection plate, adjustable, on fixed side.
Mould change rail incl. moveable manual hoist 1000/2000 kg.
Pressure filling system 150 lt with 16 exits.
Vacuum Unit with 1 vacuum pumps (POMVAK-Turkey)+ 1 water pump 4 kW (POMVAK-Turkey)
Air Blower 2,2 kW for material suction to pressure filler.
Control Panel/Process Control: (BACHMANN-AUSTRIA)
Display 12" color touch panel (ASEM-ITALY)
Electronic Stroke Measuring Device (TR-Germany)
Prop.Regulation (Germany)
Pneumatic Command and Control (Festo-Germany)
High Speed Hydraulic Unit 7,5 kW (PARKER-Germany)
---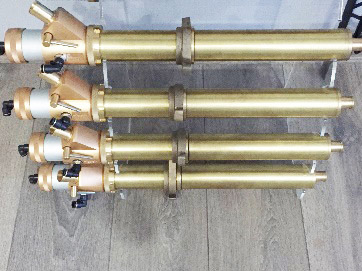 EPS-EPP FILLING INJECTORS
Our injector is produced to work with 2air or 3 air connection. (Means it can be used on all the machines)
It is longer than others.~ 400 mm
It is quick lock design.Easy service and maintanance
Can be used for fast mould change systems.You need only the outershell.You do not need to purchase complete injector. 
Inside design is made of aluminium profile.There is a channel inside which material flow through.It canbe used for any density.
It is coming without clamping ring.
Better price comparing to the similiar
---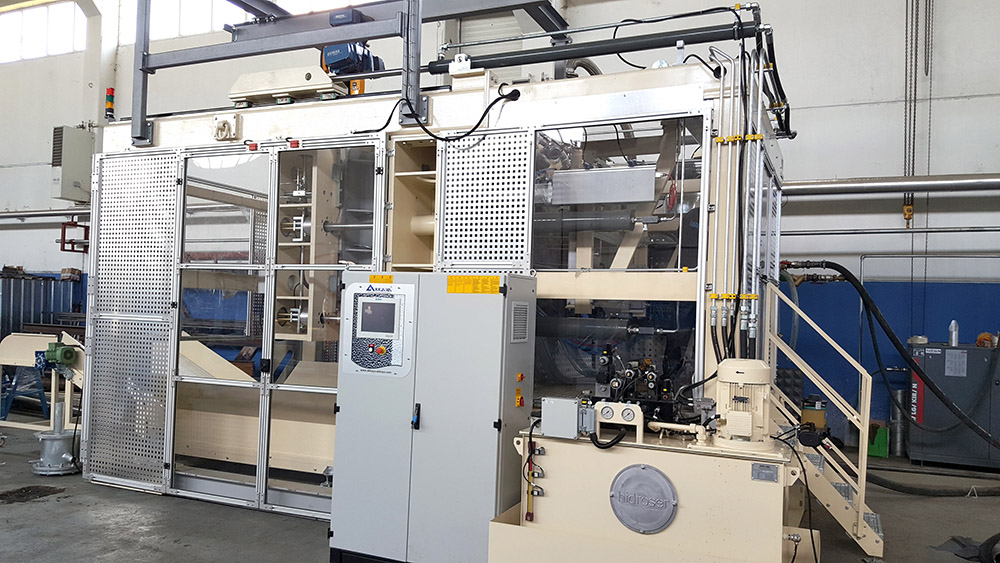 EPP MOULDING MACHINE AEM-TU 160/120
CE Certification
Operating pressure max. 5 bar standard 
Steam chamber system,Table press, meaning of possibility of connecting standart steam chambers and monoblock steam chambers.
Multi position clamping/loading of male/female through combined 
hydraulic/mechanic locking system.
Quick mould-change system with clamp-frame
Back ejection plate, adjustable, on fixed side.
Mould change rail incl. moveable manual hoist 1000/2000 kg
Pressure filling system 150 lt with 20 exits.
Vacuum Unit with 1 vacuum pumps (POMVAK-Turkey)+ 1 water pump 4 kW (POMVAK-Turkey)
Air Blower 2,2 KW for material suction to pressure filler.
Control Panel/Process Control:(BACHMANN-AUSTRIA)/Display 12" color touch panel (ASEM-ITALY)
Electronic Stroke Measuring Device (TR-Germany)
Prop.Regulation (Germany)
Pneumatic Command and Control (Festo-Germany)
High Speed Hydraulic Unit 7,5 kW (PARKER-Germany)
---
EPP MOULDING MACHINE TYPE: AEM-K PP

CE Certification,
Operating pressure max. 5 bar standard
Steel steam chamber system, aluminium coated
with outside thermal insulation.
Multi position clamping/loading of male/female through combined 
hydraulic/mechanic locking system.
Quick mould-change system with clamp-frame
Back ejection plate, adjustable, on fixed side.
Mould change rail incl. moveable manual hoist 1000 kg.
Pressure filling system 90 lt with 18 exits.
Vacuum Unit with 1 vacuum pumps (POMVAK-Turkey)+ 1 water pump 4 kW (POMVAK-Turkey)
Air Blower 2,2 KW for material suction to pressure filler.
Control Panel/Process Control:(BACHMANN-AUSTRIA)/Display 12" color touch panel (ASEM-ITALY)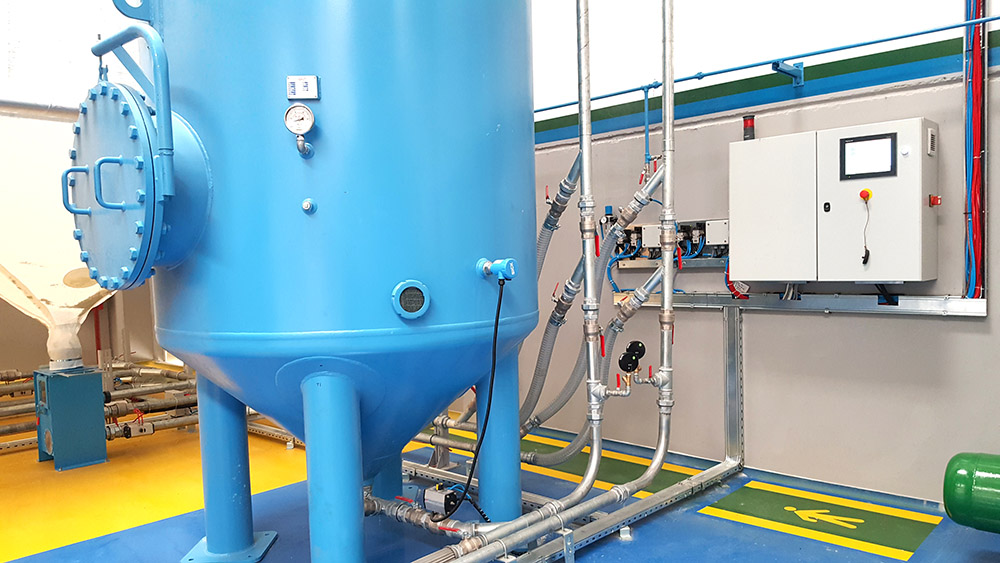 Electronic Stroke Measuring Device (TR-Germany)
Prop.Regulation (Germany)
Pneumatic Command and Control (Festo-Germany)
High Speed Hydraulic Unit 7,5 kW (PARKER-Germany)