Akkaya produce single de-stacking unit and packing units for existing customers cutting line. With this improvement, without investing for a new complete cutting line, customer improve their existing production to a automatic system. Also automatic wire setting units can be adapted to existing cutting line for a upgrade and result is no dimesion problems during cutting process.
---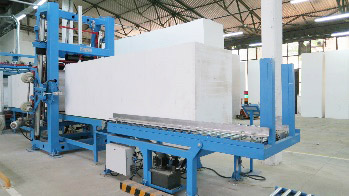 BLOCK TILTING UNIT
Hydraulically operated unit with feeding conveyor for 4 pcs blocks and centering pneumatic unit.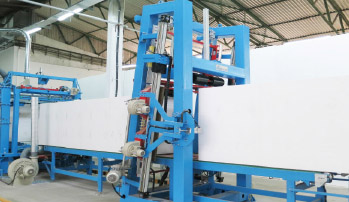 AUTOMATIC WIRE SETTING FOR HORIZONTAL CUTTING
Ossilation stroke: 30 mm
Ossilation Speed: 120 rpm/min
Wire quantity: 80 wires
Wire thickness: 0,47 mm
Minimum cutting thickness: 10 mm (not for the complete block)
Compressed air presssure: 6-7 bars
Wire setting time: 1,5 min
Servo motor & Invertor: Bosch Rexroth
PLC: Siemens S7/1500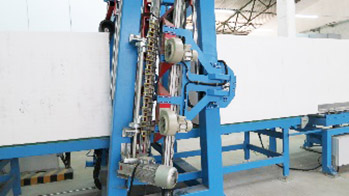 HMI Panel: KTP 400/600/700
Fuses: SchneiderSchrack
Contactors: Schneider
Photocells: Sick
Profibus modules: Wago
Motors & Gearbox: BonfiglioliYılmaz
Hydraulic: Parker
Pneumatic Drives: Festo
Pneumatic Cylinders: Pemaks
Bearings: SKF-INA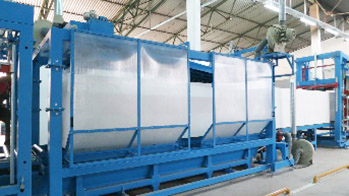 SIDE TRIMMING UNIT 
3 pcs of cutting wires, 2,5 kVA Transformator capacity, Including cooling fans.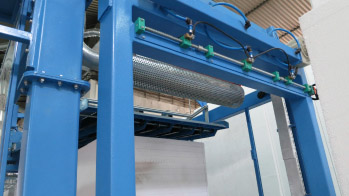 TOP SCRAP RECOVERY UNIT
Equipped with vacuum suction unit, the skin come out from the top of the blockmould collected via 1400 mm conveyor
Max. Sheet Thickness: 20mm
Max. dimensions W:1300mm  
           H: 1200-1600 mm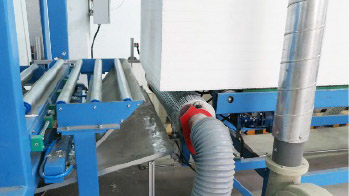 PRECRUSHER FOR SCRAP RECOVERY SYSTEM
Number of crusher shaft: 2 pieces
Motor-single 4 kW
Max.density to crush: 35 kg/m3
Max.crushing thickness: 3040 mm
Material transport fan: 5.5 kW included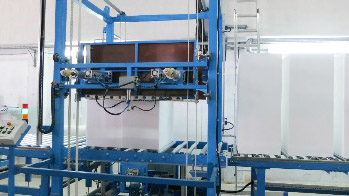 DE-STACKER
The welded and bolted framework made of Standard steel profiles is grounded and painted    blue according RAL 5012
Capacity: 14-16 block/hour
Servo driven stacking/ de-stacking adjustment
Synchronized operation between cutting line and packing machine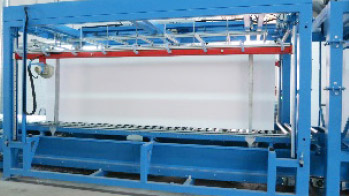 VERTICAL CUTTING UNIT TYPE
(12 wires) 4,5 KVA Transformator capacity. Cutting always from bottom to top.
---
CUTTING LINE TYPE:AKH
Block can be cut 1,2 mt or 1 mt
Cutting Capacity: 1,2 mt/min-2,0 mt/min 15-20 kg/m3 density
PLC Automation System (Siemens-Germany)
Color Touch Screen Panel size 15" (Siemens-Germany)
Pneumatic Control Valve (Festo-Germany)
Hydraulic Unit for tilting (PARKER-Germany)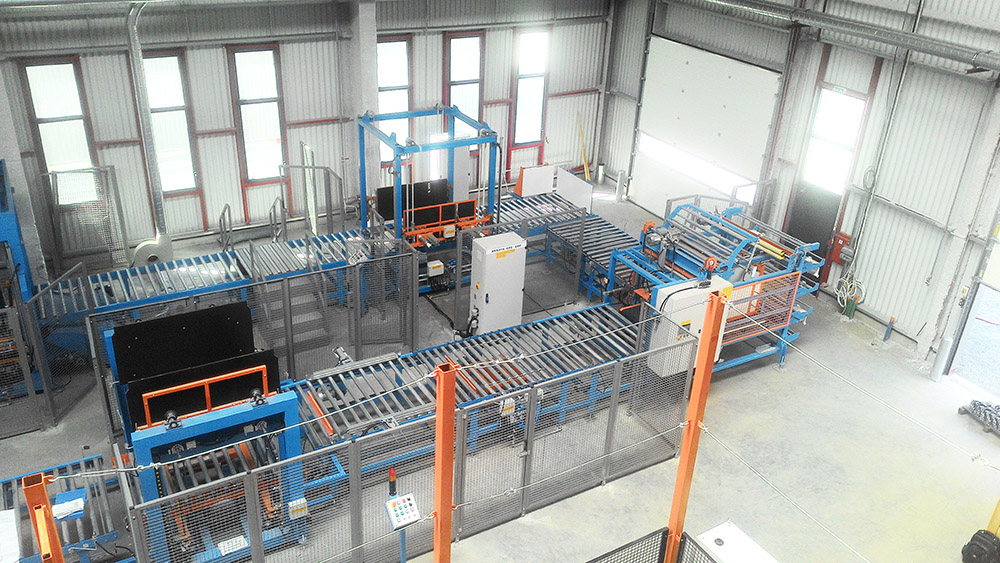 CE Certification 
Max. Pack. Dim: 1000x1200x600 (650) mm
Packaging in polyethylene film (PE Foil)
Capacity: Up to 8 pack./min. (Electrical drive welding jaw)
Sheets of styropor are manually brought on the inlet (feeding) part of machine and after that process is fully automated.
High speed sequences of automatic cycles.
Orientation-right
Electrical power: 2 kW
Operating voltage - 400 V, 50 Hz
Air pressure - 6 bar
Microprocessor control device - Siemens
Seal/ foil width max. - 1.250 mm
Paint in - RAL5015
Densities - according to EN 13163 standards
Film Material - Standard PE film LDPE pure, no regrind add
Thickness-20-45 µ - most usual thickness is 30 µ
Melt index of PE - 2-3
Slip additives -without  slip additives
Elasticity of PE along - app.10 % - elasticity is not stretching
it is a tolerance of deformation
Elasticity of PE cross - less than beter
Film Width: - 1.040 mm for 1.000 mm EPS